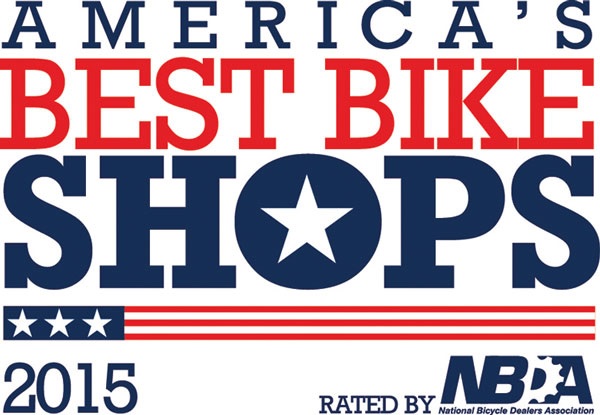 Two Years in a Row!
In 2014, we were first named as one of "America's Best Bike Shops" by the National Bicycle Dealers Association. Since we aren't used to much national attention, we were afraid it might be a fluke, and didn't want to be known as a one hit wonder... So we pledged right then to look for areas to improve, and set our sights higher. It appears that quest has paid off, because we honored to receive the award again this year!
Our plan is to keep up the momentum, and we have more positive changes planned for this next season... so if you haven't been by in a while, stop by and see what's new!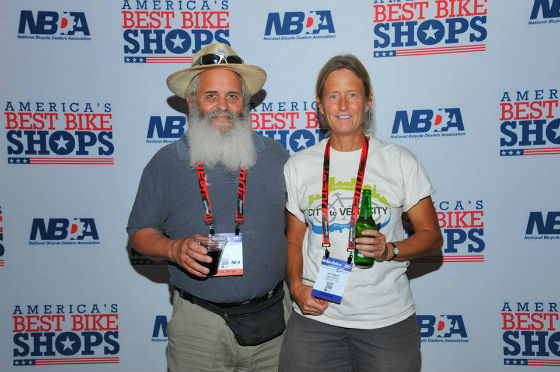 Jim and Sue at the 2015 awards presentation in Las Vegas
---
While they last: We still have some really great deals on some great bikes... come in and check them out before they are gone!
---



NORCO now at Ironclad
We are proud to expand our horizons, and offer a new choice of quality bicycles at our shop. We are impressed with the quality and value NORCO packs into their bicycles, and we think you will be too... especially when you compare how they are spec'ed. New models have been rolling in for the past month, and more are on their way. We even have a few factory demos with really special pricing! Please come in and check them out... you'll see what we are talking about!

---
It is that time of year when we start thinking about 2015 events check out http://www.epicrides.com/ for info on the Whiskey Off Road.
---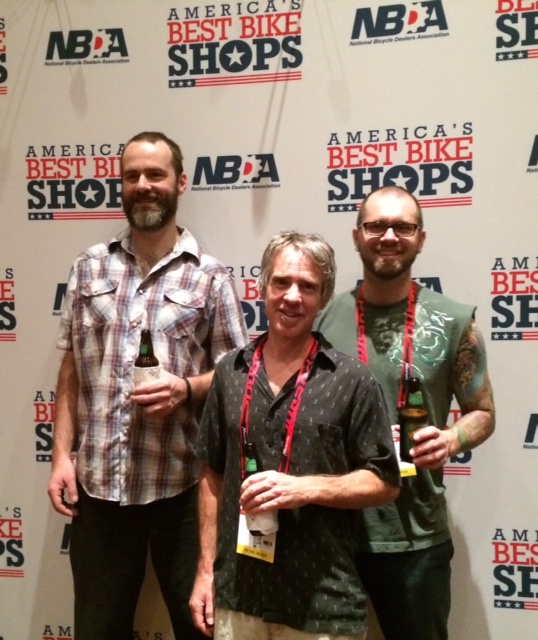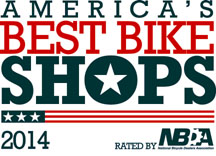 We are really excited to be ranked as one of America's Best Bike Shops By the National Bicycle Dealers Association. We are the only shop in Prescott to receive this designation, and one of only four shops in Arizona to be listed.
We thank all of our customers that keep us motivated to pursue excellence, and we promise to keep setting our sights higher!
To celebrate this achievement, our crew is going to go to Las Vegas to attend the International Bike Expo known as Interbike, and partake in the NBDA Award Reception.

(click on the graphic above for the full list of winners)

---



---
Check our facebook page, we will be uploading whiskey pics soon...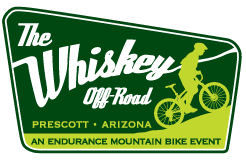 ---
Prescotts Bike Month will run from Saturday April 12 (Prescott's celebration of Earth Day) through National Ride to Work day on May 16.
Don't miss Prescott Alternative Transportation's gala on Saturday April 19. The best way to keep up with all Bike Month events is to "friend" "Prescott Bike Month" on facebook... as long as you are going there, you might as well friend us too: https://www.facebook.com/ironcladbicycles
---
Hey - Check out this magazine article! We are not really sure what it says... but all the sudden beer and bratwurst sounds awful tempting ;) Click here: RadMarkt 09/13





---
There is a cool little video of the 2012 Skull Valley loop Challenge on youtube:
http://www.youtube.com/watch?feature=player_embedded&v=bTvjyHT1Iow

It will be coming up again on 9/21/2013
----


IRONCLAD is now an AUTHORIZED FOX SERVICE CENTER!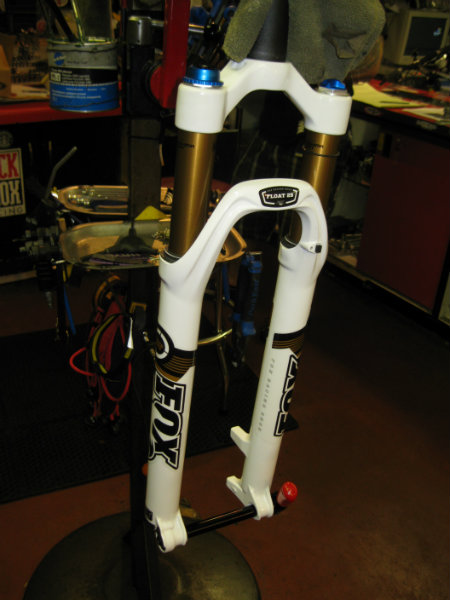 Ironclad Bicycles is proud to announce that we are now authorized as a service center for FOX Racing Suspension forks. In June we sent Corey to a special Fox training seminar on the campus of United Bicycle Institute in Portland. In July we ordered up all the special tools and parts kits. In August we held in-house training sessions for other staff, and now - we are all geared up and ready to go!
Why is this a big deal? Fox makes the best forks out there, and up until now if there was a problem with a fork, our only option was to remove it, box it up, and send it to Fox... then wait for them to service it, and send it back. This was a process that could mean weeks without your bike... hard to take when the weather is good.
NOW, we have cut the UPS man out of the picture, and we can service your Fox fork in house... and significantly reduce your down time. We are proud to be the only shop in the area that has the tools, expertise, and parts on hand to do this work!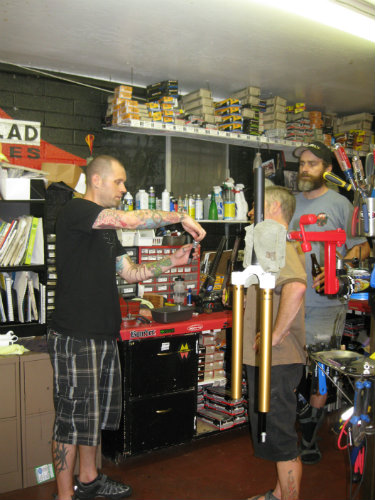 Have some other brand of fork? No sweat... we can probably service that too - just ask!
---
We had a lot of fun during the Whiskey weekend, and posted some pic's in a facebook album you can find here: http://www.facebook.com/media/set/?set=a.452252551456995.120321.100000167631598&type=3

---
It is kind of hard for us to wrap our minds around this whole 2012 thing... Not only is it a leap year, and an election year, and the end of the Mayan calendar... It is also the year Ironclad Bicycles turns twenty years old. The world has changed a lot in the last twenty years, and in ways we could have never imagined... but one thing that will never change is our commitment to Prescott, and to helping make it a more bike friendly town. We are also committed to our customers, and to helping them have more fun, and to be able to enjoy healthier and more active lifestyles by incorporating bicycling in to their daily routines.

Who knows if we will still be here 20 years from now... That may be out of our control... so our goal is to make 2012 as much fun as possible - and we want to welcome you to join in. Friend us on facebook, or stop by and sign up for our email list, and we will keep you posted. Heck, if you have got something fun going on, let us know because we are up for it. 2012 is going to kick ass!
---


The Whiskey Off-Road 2011 is not an event we will quickly forget. What was really cool was that this year's race was dedicated to Joe Breeze, and he not only came to ride, he also spent some quality time at the shop. Did you know Ironclad Bicycles was the world's first dealer for Breezer Tansportation Bikes? It's true, and we are still proud to be a current Breezer Dealer! Come in and check out the new Breezers sometime soon.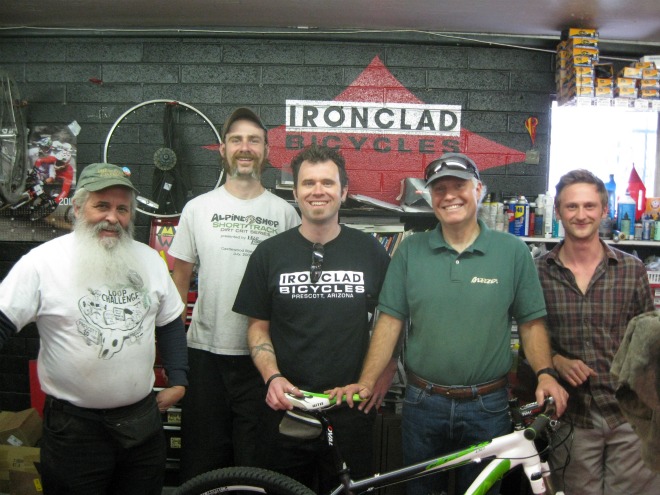 Jim, Mike, Corey, Joe Breeze, and Zac

---
Learn all about the Prescott Mountain Bike Alliance and join up with them here: PrescottMTB.com
---
We actively support Prescott Alternative Transportation , Prescott Bicycle Advisory Committee, the One Street fo Bicycling , LAB, IMBA, NBDA, and Bikes Belong.

Our shop is situated for some of the best road and mountain riding in the State of Arizona.

We pride ourselves on having the equipment and information you need to get the most out of your bike.

Please surf our site to learn more, or come by for a visit when you are near!





Click the link and sign the pledge ; )